White Bamboo Linen Bedding Sets
Regular price
$184.91 USD
Regular price
Sale price
$184.91 USD
Unit price
per
Sale
Sold out
Share
Bamboo Linen Sheet Sets with 1 duvet cover, 1 fitted sheet or 1 flat sheet, 2 pillowcases
BAMBOO LINEN SHEET SETS
   The bed is supposed to be the most comfortable place in the home, so it's important to fully optimize it for relaxation and sleep. We've combined all the advantages of the linen you love (naturally derived from flaxseed and incredibly breathable) with the benefits of bamboo to make these sheets softer than cotton, more absorbent, and naturally antibacterial.
   If you don't want to spend too much money on French linen, bamboo linen is a perfect choice, less expensive, but still has most of the advantages of French linen. Linen Bamboo Sheets are hypoallergenic and chemical-free, making them ideal for those with sensitive skin or allergies. Its strong fibers make linen bamboo sheets durable, and they have natural climate-adaptive properties that regulate your temperature while you sleep, allowing you to sleep warmer in winter and cooler in summer. Linen Bamboo Sheets are machine washable and the more they are used or washed, the softer they become.

Linen Bamboo Bedding set includes 4 pieces:

- 1 duvet cover with coconut buttons
- 1 flat sheet or fitted sheet
- 2 pillowcases with or without coconut buttons
Why Scandalinen's products?
+ Include manual /industrial embroidery upon request
+ We offer more than 50 color choices on large linen fabrics dedicated to bedding, curtains, tablecloths, and napkins ...
+ We accept bulk orders and shall consult on your own unique colors and designs
+ Reasonable wholesale price because of own local manufacturing
+ Customizing as your orders and unique designs; we also have our own designer who can help you with creative products
+ Made in OEKO-TEX Standard 100 factory, an independent certification system that ensures textiles meet high safety and environmental standards.
Specifications:
Material: Blend of bamboo and linen
Fabric weight: 
SIZE CHART: (in inches)
Mattresses measure up to about 10, 12, 14, 16, 18 inches in depth.  
Twin:
01 Fitted Sheet (99.06 x 190.5cm x 14'') or 01 flat sheet + 01 Duvet Cover (1823 x 244cm) + 2 Pillowcases (51x66 cm)                      
Twin XL
01 Fitted Sheet (99 x 203cm x 14'') or 01 flat sheet + 01 Duvet Cover (1823 x 244cm) + 2 Pillowcases (51x66 cm)                                        
QUEEN
01 Fitted Sheet (152.5 x 203 cm x 14'') or 01 flat sheet + 01 Duvet Cover (1823 x 244cm) + 2 Pillowcases (51x66 cm)                                                      
KING
01 Fitted Sheet (193 x 203 cm x 14'') or 01 flat sheet + 01 Duvet Cover (1823 x 244cm) + 2 Pillowcases (51x66 cm)                        

*** CUSTOM SIZES: If you need a different size, please leave a note for me and I'll make it for you!
If you have any questions about the product, my policy, shipping and so on please contact me, I will be happy to answer all of them!
Hope you'd enjoy shopping with us!
With love,
Team SCANDALINEN
——————————
Our Facebook: https://www.facebook.com/scandalinen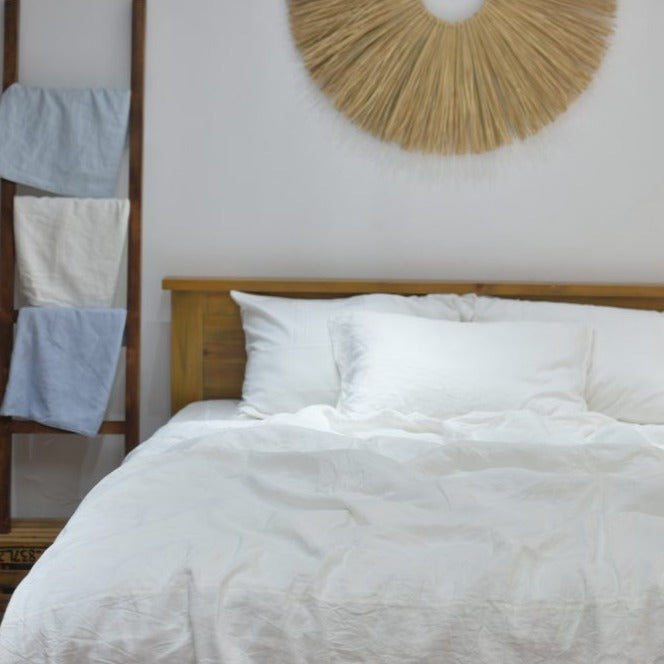 MIX AND MATCH AS YOU WANT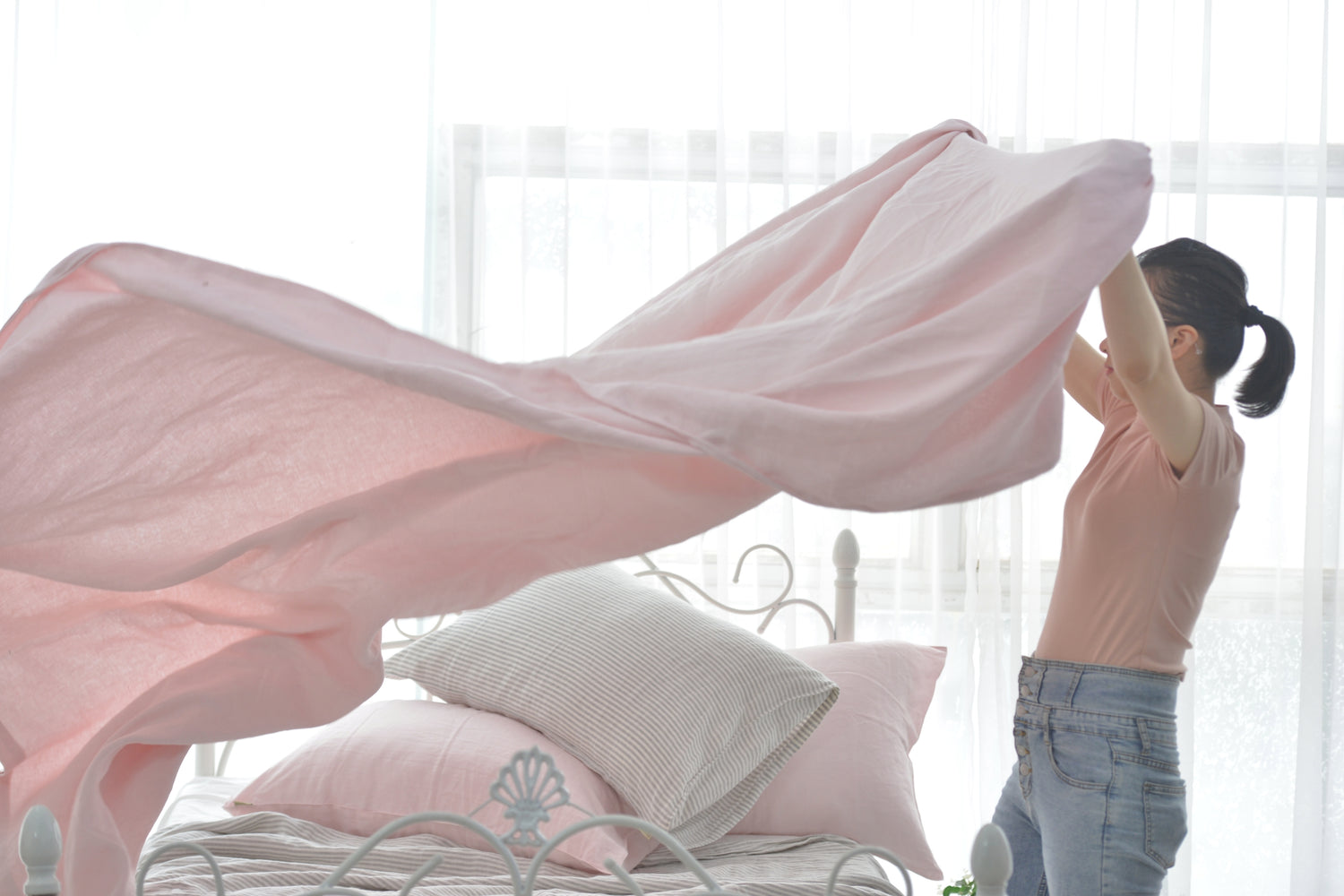 You can mix and match your bedding as what you dream. Your mattress and bedding size are not problem also because we can customize as detail as possible. You won't be charged any extra fees if the size is still around our standard. Please know that just one click to chat and tell us what your needs are, we confirm that we will try our best to help your dream of bedroom comes true.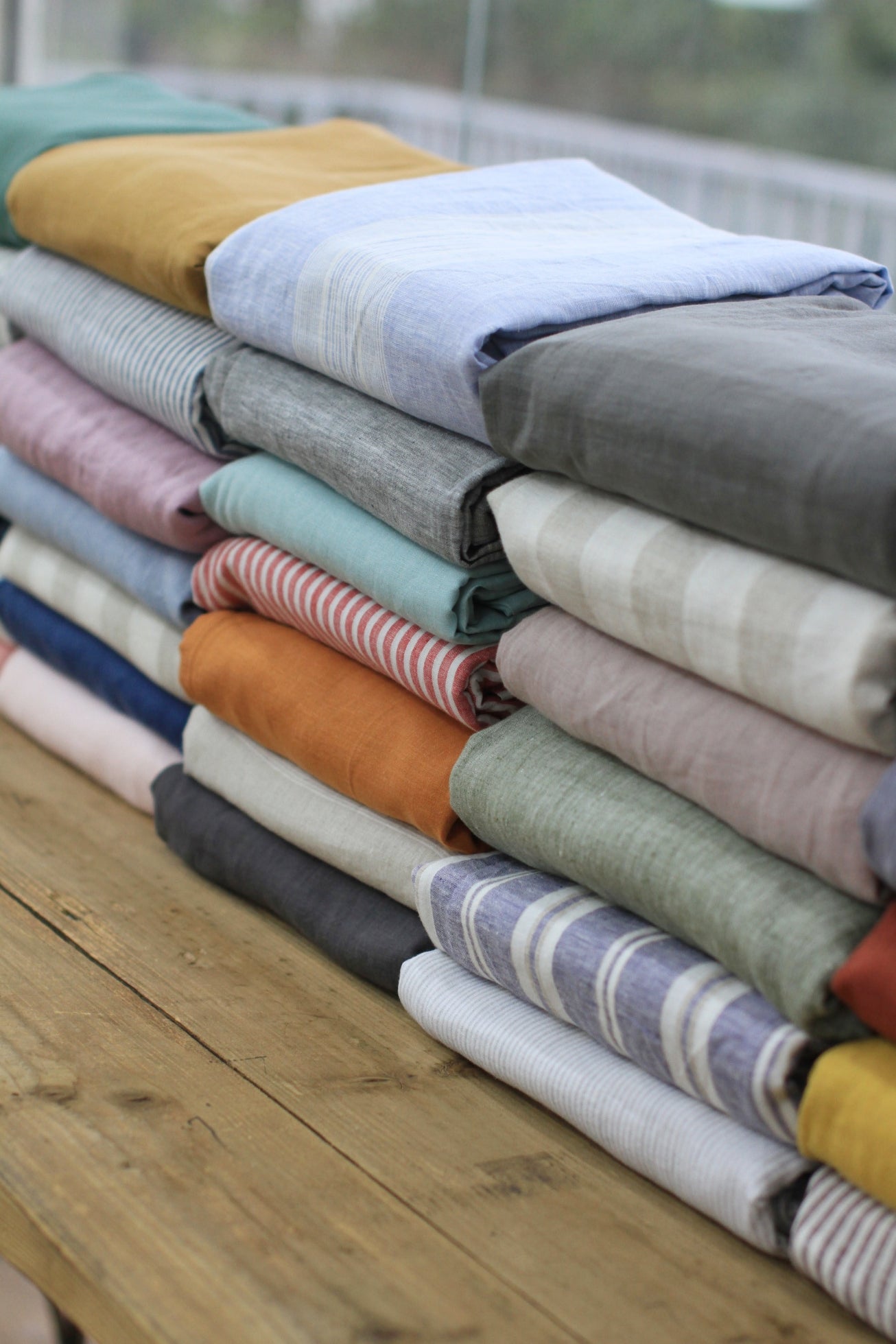 Big width French Linen fabric
Our French Linen bedding is high quality and made from wide fabric, therefore, there are no seams on duvet covers and sheets.